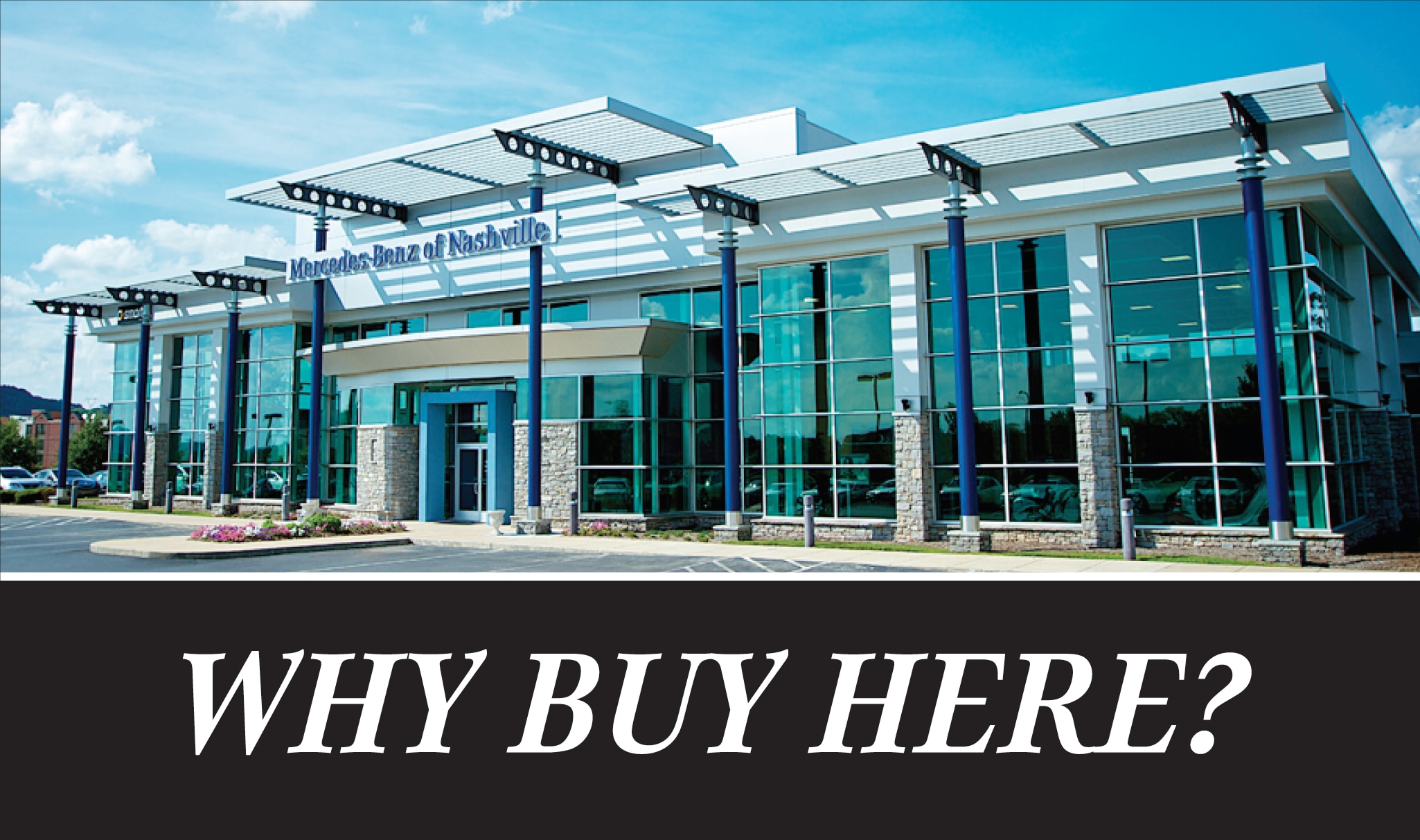 A proud member of Sonic Automotive,

Mercedes-Benz of Nashville is one of 120 outstanding stores across the nation, employing several thousand associates and not only representing Mercedes-Benz but 14 other amazing brands as well. 

Whether you're looking for a luxurious new sedan, coupe, or SUV, Mercedes-Benz of Nashville will never disappoint you. From the new C-Class luxury sedan to the new GLE SUV, if your heart desires a true luxury vehicle and world-class service, you'll find it here.

In our business, there's nothing more important than delivering unsurpassed customer service-5-Star service, from start to finish. With that said, Mercedes-Benz of Nashville is proud to offer the best concierge service you're likely to find anywhere.
 
 
 

 

At Middle Tennessee's own Mercedes-Benz of Nashville, we've made it our number one goal to provide you with a straightforward automotive buying process, one exemplified by complete transparency. So, you need never worry about unscrupulous sales practices when you're here with us.










Mercedes-Benz of Nashville wants nothing more than to be your premier Mercedes-Benz dealer in Middle Tennessee. We try to treat everyone who walks through our doors like family, and we're proud to support the Make-A-Wish Foundation of Middle Tennessee and many other charitable organizations seeking to do so much good within our community.

Read More

Are you eligible for an additional incentive on the purchase or lease of a new Mercedes-Benz vehicle? Well, if you happen to be a qualified employee of an organization that participates in our exclusive Fleet Employee Program, you are!

Read More




HOURS
Monday

9:00 am - 7:30PM

Tuesday

9:00 am - 7:30PM

Wednesday

9:00 am - 7:30PM

Thursday

9:00 am - 7:30PM

Friday

9:00 am - 7:30PM

Saturday

9:00 AM - 6:00 PM

Sunday

Closed