TIRE SERVICE
Finding great value in the tire services that your car or SUV needs is easy to do when you take a look at the Mercedes-Benz of Nashville promotions and special offers that are currently available.
Benefits of Tire Service
It is common for drivers to delay getting automotive services until they are urgently needed, and this extends to tire services. You understandably are aware of the importance of replacing worn out tires that have little to no tread remaining on them. After all, worn-out tires can affect your safety as you cruise around Nashville roads. Getting regular tire service for maintenance needs is also essential. Remember that tires that are not properly inflated or that have uneven tread wear can also affect your safety. These factors could play a role in diminished fuel efficiency, additional and unnecessary wear on other mechanical systems and features, the longevity of your tires and more. There are many types of tire services that may be needed periodically, such as air pressure monitoring, tire balancing, tire rotations and more. For these and other maintenance needs as well as for tire replacements, turn to our pros at Mercedes-Benz of Nashville for exceptional service.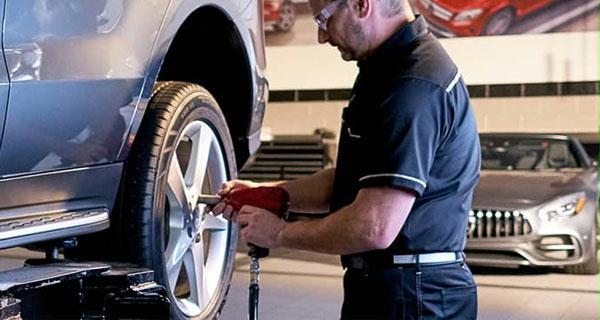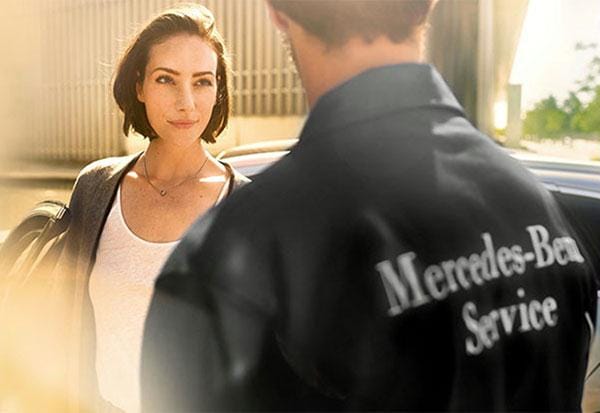 Customer Reviews
Mercedes-Benz of Nashville
630 Bakers Bridge Ave, Franklin, TN 37067
Serving
Franklin

,

Nashville

&

Brentwood

At Mercedes-Benz of Nashville, we understand that our valued customers expect great things from any service center that they trust with the care of their car or SUV, and we are dedicated to living up to your high expectations. As your preferred service center serving the Nashville area, we take numerous steps to ensure your satisfaction and to make it as convenient as possible for you to get the tire services that your vehicle needs. This begins by providing you with quality service in our convenient Nashville location. By calling ahead for a tire service appointment, you can rest assured that your vehicle will be immediately serviced by our talented, certified auto technicians. There is never a concern about poor workmanship when you bring your car or SUV to us because our certified technicians have extensive training to provide all of the services that your vehicle needs. Our services are also available for other makes and models. An additional step that we take to promote customer satisfaction is to hold extended business hours with an after-hours drop-off option.
Nashville Mercedes-Benz Tire Service
Some tire services, such as rotations and air pressure checks, do not require replacement parts. With these and all other services that we complete, our certified professionals use top-notch equipment and tools to provide fast, reliable results. When replacement parts are needed, such as with replacement for tires and struts, rest easy knowing that we never use aftermarket parts. The auto service center at Mercedes-Benz of Nashville completes all repair and maintenance projects with OEM parts. These are the same parts that have been selected by the automaker for use in new production vehicles, so you can feel confident about their superiority and longevity.
You cannot take chances when you are searching for a service provider for your Mercedes-Benz. A closer look at the extra steps that we take to ensure that you love the work that we complete for tire services and for any other services needed will reveal that we are the service provider that you should turn to for all repair and maintenance services that your vehicle needs. Remember to call ahead for an appointment for prompt attention from our team.
HOURS
Monday

7:00 AM - 6:00 PM

Tuesday

7:00 AM - 6:00 PM

Wednesday

7:00 AM - 6:00 PM

Thursday

7:00 AM - 6:00 PM

Friday

7:00 AM - 6:00 PM

Saturday

8:00 AM - 4:00 PM

Sunday

Closed