Mercedes-Benz of Nashville is proud to offer world-class service at our service center in Nashville. As part of our commitment to exceptional Mercedes-Benz service and maintenance, we are proud to announce that two of our technicians have completed the Centralized Diagnostic Technician Certification. There are only two technicians in the area who have completed this exclusion certification and they are both a part of our Mercedes-Benz of Nashville service team. Learn more about our world-class service and premium Mercedes-Benz expertise, call or visit our Mercedes-Benz service center in Nashville for more information today!
As a Centralized Diagnostic Technician, you are a specialist for the systematic performance of complex fault diagnosis, checking repair processes, performing final inspections and, if needed, handing the vehicle over to the customer.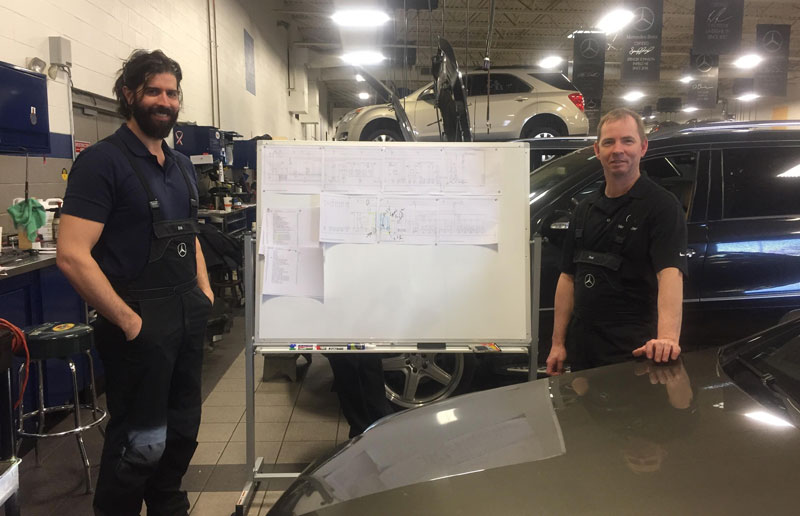 They support colleagues in systematic fault diagnosis and subsequent repair steps, thus finding professional solutions for difficult cases. They increase workshop efficiency by optimizing diagnosis procedures and transfer your diagnosis know-how and information on new technical features to your colleagues.
As a representative of the Mercedes-Benz brand, your conduct is reliable, trustworthy, and partner-oriented. They think and act like a service provider and have a confident manner when dealing with colleagues and customers in stressful situations. By treating customers and customer property with appreciation, you make a decisive contribution to the brand image and customer satisfaction. As a Centralized Diagnostic Technician, you work independently and develop your own individual strategies for solutions.
 

Qualification

A structured approach is the hallmark of a Certified Centralized Diagnosis Technician (CDT)

Training
Training series to become a Certified Centralized Diagnosis Technician (CDT) (including expansion of diagnosis skills, methods for fault correction) and annual participation in product training courses by Mercedes-Benz
Initial training in Mercedes-Benz-specific diagnosis Systems
Experience
The Centralized Diagnostic Technician (CDT) training program is available to employees with Technical Job codes of System Technician or higher for MB, MB/CV, MB/smart and MB/CV/smart dealer employees.
 

Why CDT?

When faced with advanced diagnosis or intermittent issues we recommend identifying lead technicians that accept the challenge. The Centralized Diagnostic Technician (CDT) training program has now been adapted to meet the needs of Mercedes-Benz passenger car dealers and technicians in the US market. This thorough and intensive training program provides Central Diagnostic Technician(s) with the skills and knowledge to address concerns that involve an advanced diagnostic strategy. Successful completion of the Centralized Diagnostic Technician (CDT) training program will result in a Diagnostic Technician Certification status recognized by MBUSA and Internationally by Daimler Global Training.
 

Tasks

Service reception
Performing a visual inspection or on-board diagnosis.
Using various checklists during service reception (Diagnostic Worksheets, carrying out reception and preliminary diagnosis), which make it possible to check and document proper performance of the individual concerns.
Preliminary and Complex Diagnosis
Systematically and professionally carrying out complex diagnosis and preliminary diagnosis on vehicles using the corresponding diagnosis tools and aids (visual inspection, on-board diagnosis, test drive, and off-board diagnosis).
Documenting the results of the preliminary diagnosis on the Repair Order.
Checking the accuracy and quality of the data and preparing the vehicle or required diagnosis tools.
If necessary, contacting the customer for additional information on the concern. Performing difficult diagnosis in cooperation with the System Technician or Shop Foreman under dynamic test conditions in the workshop or on the road.
Ascertaining the cause of special malfunctions and initiating possible measures for rectifying them.
Comparing the vehicle's present condition with the common production configuration and assessing the technical condition.
Documenting diagnosis methods and processes in a suitable diagnosis database.
In the case of especially complex technical problems and / or an inconclusive diagnosis, contacting the Diagnosis Expert at the Product Technical Support System (PTSS).
Using various checklists during the preliminary diagnosis, which make it possible to check and document proper performance of the individual work steps
Diagnosis and repair support
Advising and supporting workshop personnel in difficult diagnosis cases and when additional information is needed.
Ensuring that workshop personnel perform systematic diagnosis.
Carrying out function and final quality checks to ensure the sustainability of the repair.
Asking for external support from PTSS if needed.
Final inspection and vehicle return
Performing a final inspection of the repaired vehicle in regards to the fulfillment of the repairs, roadworthiness and functional reliability using test and measuring instruments.
Checking the functional reliability of the main components and systems under dynamic test conditions.
Checking that the vehicle leaves the workshop in a perfect condition.
In coordination with the Service Advisor, personally handing over the repaired vehicle to the customer and explaining the results of the diagnosis, as well as the performed work.
If necessary, providing additional handling instructions to the customer.
At the request of the customer or Service Advisor, carrying out final test drives with the customer.
Customer Experience
Providing The Best Customer Experience is your #1 goal as the Centralized Diagnostic Technician (CDT). You play a key role in the Dealership's overall success in achieving this goal.
The Centralized Diagnostic Technician (CDT) is responsible for Fixing their Customer's Vehicle on the First Visit (FFV) as well as supporting their team to do the same.
Deliver The Best Customer Experience during every customer interaction.
Other special tasks
Providing colleagues in the workshop with technical advice and information regarding product-specific problems.
Regular forwarding of data on the results of diagnosis (diagnosis database) via PTSS FYI cases.
Independently acquiring the necessary diagnosis knowledge on new products and forwarding this knowledge to your colleagues.
Advising customers in regards to technical questions and retrofitting special equipment, as well as providing information on handling and operation to them.
In cooperation with the workshop management, initiating orders for special tools for the diagnosis and repair of new products and systems.
Workshop tasks
Reduction of vehicles which are not fixed on the first visit
Improve shop productivity
Increase shop profitability
Improve shop efficiency
Improve technician moral