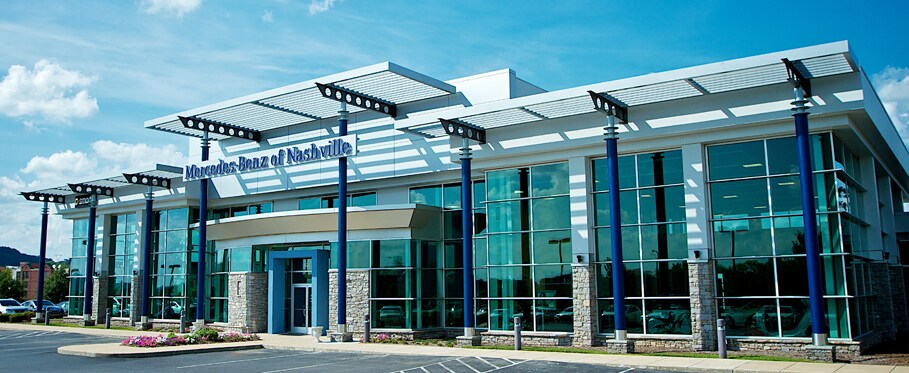 Celebrate your new Mercedes-Benz in Europe!

Experience your
new Mercedes-Benz
in the country it was designed in, engineered and built.  The European Delivery Program offers a unique experience with several  benefits.  Satisfied Mercedes-Benz customers have chosen the European Delivery Program because of the unique buying experience.  Advantages include savings of up to 7 percent off the MSRP and complete customization of your vehicle.  You and your companion will also receive the following benefits:
A one night hotel stay in a luxurious hotel in Stuttgart, Germany.
Mercedes-Benz USA travel assistance for your hotel and airline reservations.
A tour of the Sindelfingen Factory.
Entrance to the Mercedes-Benz Museum (2 tickets).
For peace of mind, fifteen (15) days of European road insurance.  
Vehicle transport to a Mercedes-Benz dealership of your choice.
Breakfast, or lunch at the MB Delivery Center.
Complementary ride to and from airport, or railroad station to the Delivery Center or hotel.
Full tank of fuel.
Marine transportation insurance.
Destination charge is waived.


Trip Packages
After you have picked up your Mercedes-Benz, you are free to travel Europe as you please in your very own vehicle.  You also have the option to choose from four carefully planned itineraries below:

Standard Package
Enjoy a one-night stay for two at the hotel of your choice in Stuttgart, Germany.  A delicious breakfast, or lunch, can be enjoyed at the Sindelfingen factory restaurant.  After, drive your new vehicle to a variety of recommended hotels and resorts in Europe's finest cities.
Black Forest & Alps Rally Package
Explore the winding roads and savor the stunning vistas of the Black Forest and the Austrian Alps.  Over the course of the five day trip, you will drive on roads picked to highlight the world class driving dynamics of your new Mercedes-Benz.  At the end of each day, relax and rest in the best hotels.

Alpen Route Package
Experience quintessential towns and lake fronts.  Be adventurous and indulge in local cuisine, wherever you may find it.
Stuttgart Walking Tour Package
Wander Konigstrasse, a popular destination that features a variety of shops, restaurants and beer gardens.  Illustrious art museums and exhibits offer something for everyone.  The specially designed walking tour is a fantastic way to discover one of Europe's most fabulous cities - Stuttgart.
Vehicle Drop-Off Points & Accommodations

As you travel through Europe with your new vehicle and stay in world class hotels, remember that Mercedes-Benz has fifteen drop-off locations for your convenience. With over fourteen drop off destinations, explore Europe as you please.
Our Drop-Off Locations
 


Madrid*
London
Paris
Amsterdam
Geneva
Nice
Bremerhaven

 

Zurich
Frankfurt
Munich
Koper
Berlin
Hamburg
Italy*
Final Steps


After you have completed the registration process with Mercedes-Benz of Nashville, Mercedes-Benz USA will send you a confirmation letter, insurance information for your vehicle and helpful travel details.  The following information must be presented before you receive you Mercedes-Benz in Europe:
Required Documentation:
1.)    Confirmation letter
2.)    Vehicle invoice
3.)    Passport
Please note: In the event that you are taking delivery on behalf of someone else, you must provide a notarized Power of Attorney approved by Mercedes-Benz USA, LLC. 
*Prior Arrangements must be made before vehicle drop-off in this location.  Vehicle drop-off in this location will require an additional charge.  Payment will be collected by the shipping company.  Your local dealership, Mercedes-Benz of Nashville, will assist you with the most update information regarding this drop-off point.